Facebook bringt etwas YouTube-Feeling in seine Video-Funktion und bietet neben dem altbekannten Facebook-Share nun auch einen Embed-Code an.
Den Code bekommt ihr über die Video-Optionen.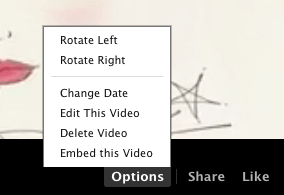 Haben das gerade einmal mit verschiedenen "öffentlichen" Videos getestet und auf einigen Seiten erscheint die Option für den Embed-Code noch nicht. Den Grund hierfür kennen wir leider nicht. Vielleicht was jemand von euch mehr?


<object width="400″ height="224″ ><param name="allowfullscreen" value="true" /><param name="movie" value="http://www.facebook.com/v/303676119645851″ /><embed src="http://www.facebook.com/v/303676119645851″ type="application/x-shockwave-flash" allowfullscreen="true" width="400″ height="224″></embed></object>
Anschließend gibt euch Facebook den Code aus. Anders als bei YouTube, habt ihr hier aber keine Auswahlmöglichkeiten. Die Größe des Videos könnt ihr aber im Code-Schnipsel anpassen.
So sieht das Video dann aus:
Eine kleine aber feine Änderung, die sicher dafür sorgen wird, dass wir zukünftig in Blogs auch vermehrt auf Facebook Videos stoßen werden. An YouTube kommt das Embed-Feature zwar noch nicht ran, aber über den Code, könnt ihr nun auch Videos in euren Blog packen, die exklusiv auf Facebook veröffentlicht wurden.
Blogger in Charge bei Futurebiz, Speaker, Autor und Senior Digital & Social Media Berater bei der Agentur BRANDPUNKT. Jan Firsching berät Marken und Unternehmen bei der Entwicklung von digitalen und Social Media Strategien. Zu Futurebiz Consulting
Blogger in charge at Futurebiz. Speaker, author and senior digital & social media consultant at the BRANDPUNKT agency. Jan Firsching advises brands and companies on the development and implementation of digital and social media strategies.